Bayfair Center Looks to the Future
By SLNext
In Uncategorized
Jan 19th, 2023
13 Comments
9721 Views
Bay Fair TOD Plan
Over the past decade, San Leandro has take a number of steps to lay the groundwork for the creation of a vibrant transit village in the 150-acre area surrounding the Bayfair BART station. In 2018, as a response to the evolving retail environment, the City Council adopted the Bay Fair Transit-Oriented Development (TOD) Specific Plan with a vision for the Bay Fair area to become a walkable, transit-oriented community hub, with public gathering spaces, and a mix of retail, neighborhood services, housing, and office space.
In 2021, implementing Zoning was adopted to allow for the type of denser, mixed-use development envisioned for the Bay Fair area, and new bike lanes were installed along Fairmont drive to improve multi-modal access. The City is currently working on a grant-funded effort to develop an infrastructure phasing and financing strategy to help advance development efforts.
While the Bay Fair TOD plan allows for flexible land uses to respond to evolving market conditions, the construction of new housing, particularly affordable housing, is a major goal under the Plan. Multi-family housing is permitted throughout the Bay Fair planning area and a total of 5,000 housing units have been reviewed for potential environmental impacts with appropriate mitigation measures identified. To date, approximately 500 units of multi-family housing have been approved adjacent to Bayfair Center between E. 14th Street and the movie theater.
It is anticipated that future development of surrounding properties, including the BART property will provide additional opportunities for a mix of transit-oriented uses that may include housing, retail, and employment generating uses.
Bayfair Center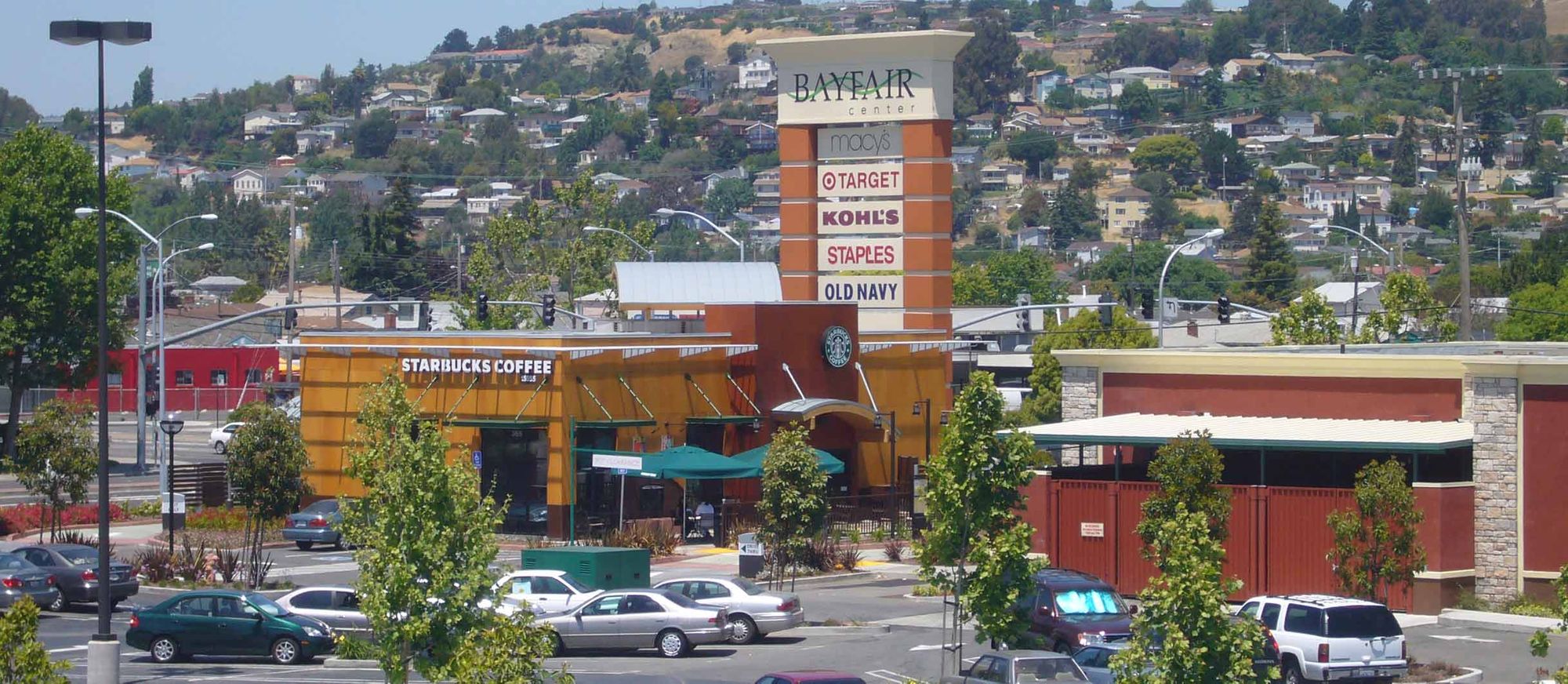 A key anchor of the overall Bay Fair area is the Bayfair Center shopping mall. Built in stages beginning in the 1950s, the mall has long been a central shopping area for San Leandro and surrounding communities. However over the past dozen years, the mall has experienced challenges, with a number of businesses, particularly those in the interior of the mall, closing. This is not a unique challenge for traditional indoor malls and across the country, malls are adapting to changing shopping habits.
In the summer of 2022, B3 Investors – owners of San Leandro's Gate510 – purchased the Bayfair Center. B3 is assessing the mall's potential for adaptive reuse with an emphasis on establishing a transit-oriented employment center adjacent to BART. It is anticipated that restaurants and retailers along the mall's exterior, including Kohl's, Old Navy, and Target will continue to serve as a successful retail anchors.
However, the number of tenants in the interior of the center has reduced to less than a dozen over the past several years. With large open spaces and little foot traffic, the owners find that continued operation of the interior of the center poses operational and safety concerns and doesn't offer a positive environment to tenants. Operation of the interior of the mall is no longer viable and the owners have provided notice to tenants that they are closing the interior of the mall effective February 2023.
Looking to the Future – and Past
Inspired by successful mall redevelopments across the country, and Bayfair's own history which originally included open air plazas that were later enclosed, B3 has been exploring opportunities for adaptive reuse of underutilized portions of the mall. In line with the Bay Fair TOD plan, and the need in the Bay Area market, this may include a mix of uses including office, life science, education, and other business uses at the center.
Adding employment generating uses has a number of benefits that include bringing jobs to San Leandro at a transit-accessible location and enhancing the customer base for local retailers. It also helps to reinforce San Leandro as the "missing middle" area for Bay Area startups, which still need physical space to perform research and development, and are continually looking for spaces in the East Bay for their growing companies.
In recent months, the commercial office, life sciences, and governmental office sectors have shown increasing interest in locations, such as Bayfair Center, that are in urbanized areas and near major public transit. B3 Investors is currently talking with a variety of interested businesses seeking office space and/or light research and development spaces particularly those in the biotech and bioscience areas, which could attract a substantial number of jobs to the area.
B3 Investors are coordinating with City's Community Development Department on next steps to transform one of the Bay Area's oldest mall sites into a modern mixed-use transit-village. Continue to follow us on San Leandro Next for more updates as they become available!
Before – exterior walkway

After – interior walkway
Before – exterior plaza

After – interior plaza
Related Posts By Category
13 Responses to "Bayfair Center Looks to the Future"